In the trend of sustainable development of the world, the issue of producing environmentally friendly products is increasingly concerned by many organizations. This is an opportunity as well as a big challenge for manufacturers to change production methods to meet market demands.
In June 2023, through many rigorous tests and assessments by the world's leading testing organization for environment and safety - UL Solutions, Posco Yamato Vina officially received the international EPD certificate (Environmental Product Declaration). This is considered the commitment to measuring and reducing the environmental impact of the steel products that the company trades, as well as transparently reporting these impacts.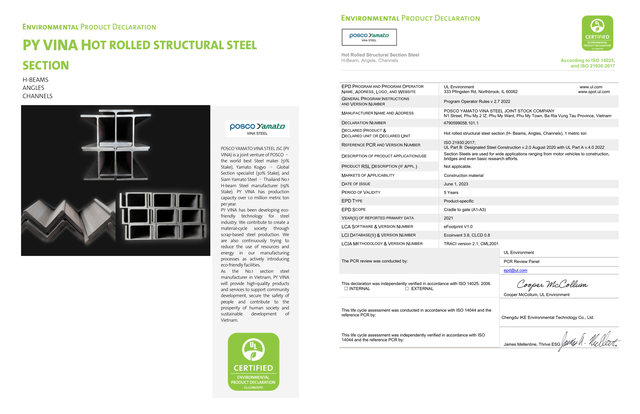 3 types of "Environmental Product" of Posco Yamato Vina
3 products of Posco Yamato Vina are certified by international EPD: H-Beams, Channel, and Angles steel for a period of 5 years from June 2023.
The first international EPD certification of the steel industry in Vietnam
The production strategy is "Always associated with sustainable environmental development"
Environmental protection is a top concern all over the world, and the proven demand for environmental friendliness in each product is of great interest to the market, especially the construction industry. Understanding that situation, Posco Yamato Vina has constantly improved the production process, selecting input materials strictly to produce "green products".

With the clear goal set out above, especially to facilitate the environmental impact assessment for the whole project, Posco Yamato Vina has recently become the first steel company in Vietnam that complete providing EPD environmental product declaration documents on the international "EPD" system.

Posco Yamato Vina hopes that the international EPD certification that the company has just obtained will enhance the competitiveness of our products in the environmentally friendly steel industry market. On the other hand, it is an affirmation of transparency and publicity in the company's production activities, from purchasing raw materials to exporting finished products.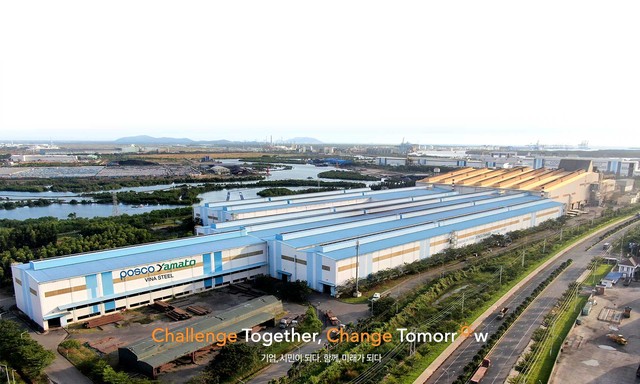 At Posco Yamato Vina, environmental oaths are not just on paper and words
What is EPD?
The EPD certification mark can only be found on products that are recognized as "Environmental Products"
What is the purpose of EPD?
Understanding the growing demand for eco-friendly materials in the current market, the EPD certification of Posco Yamato Vina provides our customers and other stakeholders with specific and accurate information on the product's effectiveness and the environmental performance related to section steel products. Using EPD in comprehensive studies on product life cycle assessment (LCA) for the purpose of minimizing the impact of production and use of products on the environment towards the ultimate goal is the sustainable development of the enterprise (ESG).
POSCO YAMATO VINA STEEL JOINT STOCK COMPANY (PY VINA), the manufacturer of world best quality of hot-rolled structural steel and sheet pile, is a joint venture of POSCO (51% stake), Yamato Kogyo Co., Ltd.(30% Stake), and Siam Yamato Steel Co., Ltd.(19% Stake).

PY VINA is located in Phu My 2 Industrial Zone, Ba Ria Vung Tau, with steel-making capacity over 1.0 million metric ton per year .